Events & News
Updates from La Pergola!
SIGEP 2019
19 January 2019
Saturday 19 January, La Pergola of Radicondoli debuts at Sigep Rimini, International
Exhibition of Ice Cream, Pastry and Bakery Craft! We will be guests at the Molino Quaglia
stand where, for the occasion, we will present a new creation: pizza with chicken liver,
caramelized onion and Pantelleria caper on a Petra® Evolutiva flour base.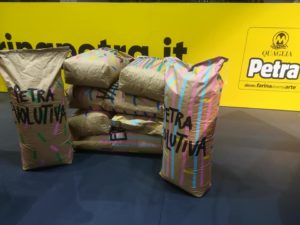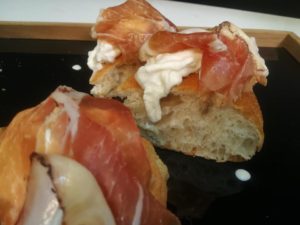 La Pergola on Alice TV
30 October 2018
La Pergola di Radicondoli will be on air on Alice TV, where Tommaso Vatti and his pizza at
km vero will be guests of "Cuochi e Dintorni"! You can follow the episode on channel 221
of digital terrestrial or 809 of Sky!
Gatti Massobrio 2019
29 October 2018
We are happy – and radiant – to be present in the 2019 edition of Gatti Massobrio, the
notebook of the best restaurants in Italy! An important and great recognition for us and our
pizzas at km vero!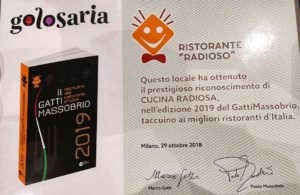 L'Espresso – Restaurants and Wines of Italy
1 October 2018
After the "3 Spicchi" of the Gambero Rosso, the Pergola of Radicondoli is also present in
the guide "Restaurants and Wines of Italy" de l'Espresso! Full speed ahead!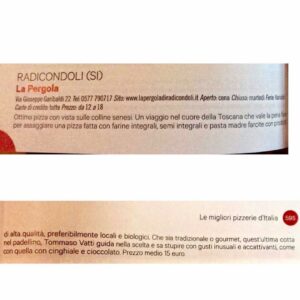 La Pergola gets "3 Spicchi" of Gambero Rosso
25 September 2018
Thursday, in Naples, the Pergola of Radicondoli and its pizzas at"km vero" have been
awarded with Tre Spicchi in the Guide to the Pizzeria d'Italia 2019 of Gambero Rosso!
We are delighted to have brought for the first time in our territory this recognition which is
very important for us… Meanwhile we continue to knead and bake, and we are waiting for
you in Radicondoli!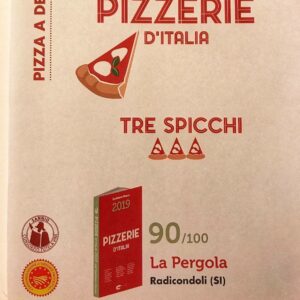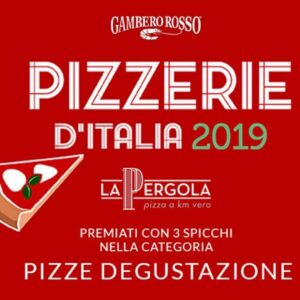 Sangiovese meets Tasting Pizza
1 March 2019
In collaboration with EnoClub Siena, the Pergola tasting pizza at "km vero" meets the
Sangiovese wine. A tasting path consisting of 5 pizzas created by Tommaso Vatti in
combination with 5 wines based on Sangiovese to officially inaugurate the new season!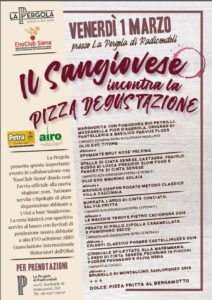 Pizza & Wine Tasting
17 February 2019
At the Sapordivino restaurant of the Grand Hotel Continental, tasting of Pergola pizzas
paired with great Italian wines. From sparkling wines to Brunello, a selection of great labels
accompany five types of pizza made with live mother dough following the Tuscan tradition.
The matching oils are selected by AIRO.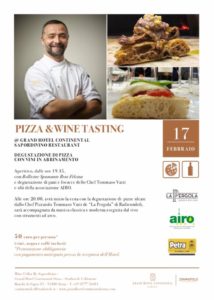 Tasting Pizza – Special Wine&Siena
26 January 2019
On the occasion of the IV edition of Wine & Siena, tuscan Streed Food at the Grand Hotel
Continental. Tommaso Vatti's tasting pizza cooked in the pan with wines selected by Wine
& Siena in the frame of the historic Gori Pannilini palace.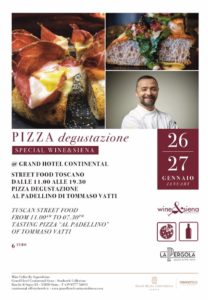 Christmas Brunch Tenuta Mocenni – Cantine Aperte
9 December 2018
Roman cocoa-flavored shovel dough with wild boar fillet, Cinta Senese lard and flaked
pecorino cheese, to taste with a glass of Chianti Classico La Ghirlanda. This is just one of
the gourmet combinations among which you can choose Sunday, December 9th at the
Bindi Sergardi Christmas Brunch! On the occasion of Cantine Aperte at Christmas, at
Tenuta Mocenni Bindi Sergardi in Castelnuovo Berardenga, join us for a brunch in which
we will pair Tommaso Vatti's gourmet pizzas with wines from the Bindi Sergardi winery.